Washington State has led the way in aerospace and aviation innovation for more than a century, from the earliest biplanes to the latest in space exploration vehicles.
To ensure its continued leadership, a Governor-led delegation of 100 industry leaders, economic development experts and decision-makers traveled to the 2023 Paris Air Show to show the world what's next in aerospace.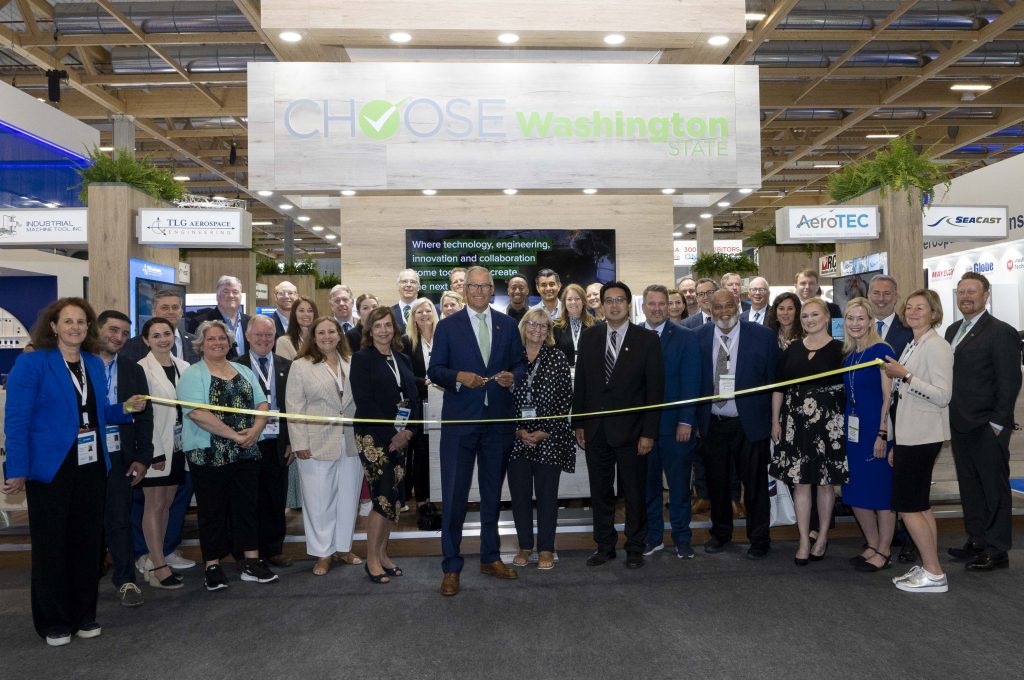 "Our delegates had an action-packed week where our consultants and team organized more than 200 meetings, from Fortune 500 companies to startup companies, focused on decarbonization in aerospace and aviation," said Mike Fong, director of Washington State Department of Commerce. "This was the first Paris Air Show since 2019, and Washington hit the pavement running. We brought 33 businesses with us, announced a sustainable aviation fuel production facility with Twelve, and an electric propulsion research and development facility at Paine Field for ZeroAvia. Washington is leading the way for sustainability and innovation in aerospace."
Supporting the theme of sustainability, Washington's pavilion was designed and built using renewable or recyclable materials. The creative design, developed by Commerce's Office of Economic Development & Competitiveness, was awarded top honors for best stand over 50 square meters. The judges also noted everyone at the pavilion was extremely friendly.
Exhibitors and delegates used the space to showcase new technologies, products and services, and meet with customers around the world interested in investing or participating in the state's expansive aerospace sector of 1,500 companies and 350,000 workers.
Space, electric, hydrogen and hybrid-powered aircraft, uncrewed and autonomous systems and next-generation air mobility were topics of discussion as well as sustainability. Delegate companies had group procurement meetings with companies such as Alp Aero, Diehl, Embraer, Leonardo, Saab Group and ZeroAvia.
While attending, Governor Jay Inslee hosted a discussion panel, "Powering the Future: Building Decarbonized Propulsion and Fuel Ecosystems," with Sheila Remes, vice president of Environmental Sustainability, The Boeing Company; Floor Vogels, a project lead at SkyNRG; Damien Meadows, senior advisor (Carbon Markets, Aviation, Maritime), European Commission Directorate-General for Climate Action and Pedro Piris-Cabezas, the senior director, Global Transportation and Lead Senior Economist, Environmental Defense Fund. Robin Toth, Washington State Department of Commerce's aerospace and aviation sector lead, moderated.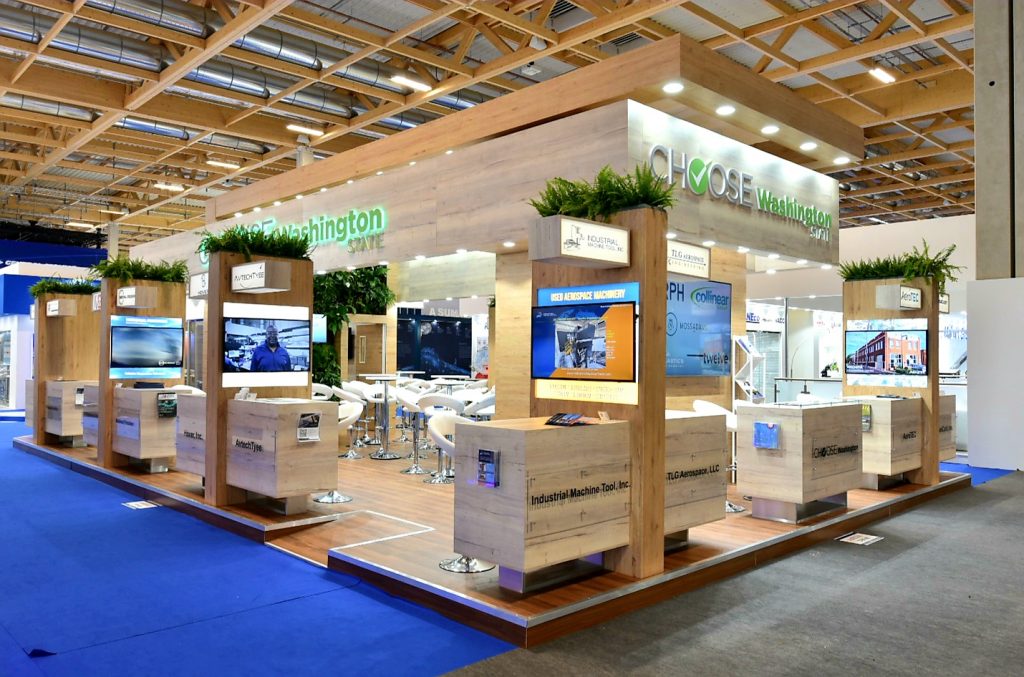 "My key takeaway from the Paris Air show is that the investments Governor Inslee and our state leaders are making in aviation sustainability, are creating a huge buzz for Washington State," said Robin Toth, "We had many meetings where we discussed this very topic, and now have a number of opportunities that will drive additional sustainable projects and investments in Washington State."
To conclude the action-packed week, members from the delegation joined Seattle's sister city, Nantes in Pays de la Loire, for an exclusive tour of the Technocampus project in the region, including a visit to the Daher Shap'In TechCenter, their research and development center for aerostructures and composites. In addition, two members from Airbus presented their best practices for reusing composite materials.
"The Technocampus offers a shared space for universities and companies from across the globe to collaborate on innovation projects advancing technology. To be in a space where great minds are coming together to shape the ecosystems of our future was powerful," noted Joanna Boatwright, aerospace international trade specialist, Washington State Department of Commerce.
Being part of the Washington State-branded booth provided businesses around the state an affordable and effective way to market their products and services, find high-value sales opportunities, meet potential partners or distributors, strengthen existing connections and stay current with competitors' activity and industry trends.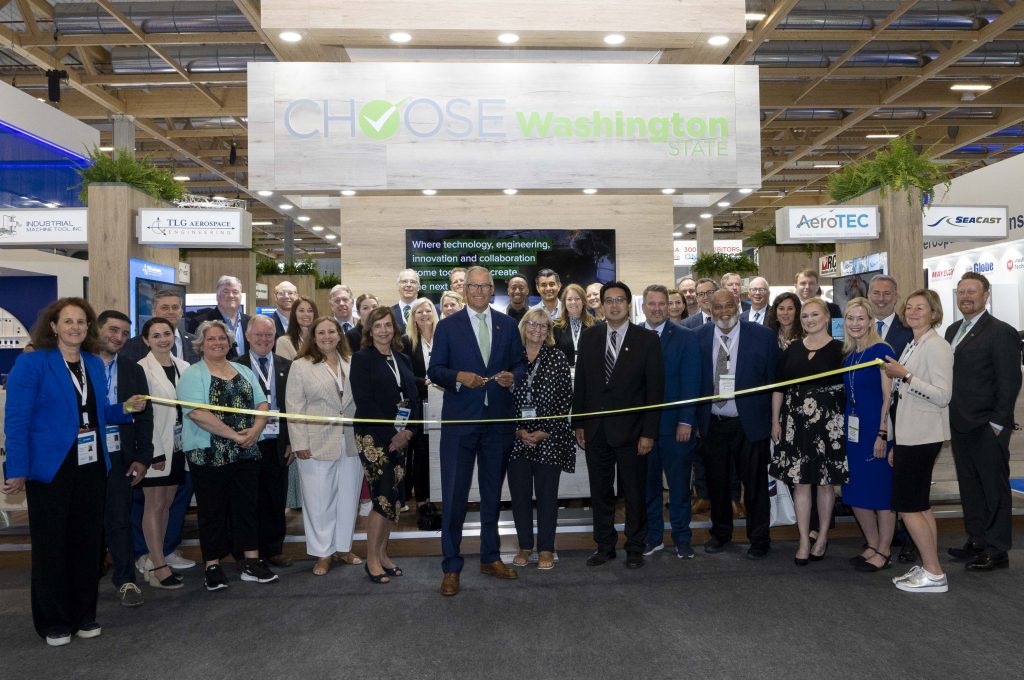 Many of these exhibitors and delegates benefited from the State Trade Expansion Program (STEP), funded in part by the U.S. Small Business Administration, to help offset the cost of small businesses conducting business internationally.
If you would like to learn more about joining the Washington State delegation for upcoming trade shows such as MRO Europe, to be held October 2023 in Amsterdam, and the Dubai Airshow, November 2023 in Dubai, please reach out to Joanna Boatwright. joanna.boatwright@commerce.wa.gov