— Alaska Airlines contributes a plane to ZeroAvia to develop a new hydrogen-electric fuel source for regional aviation. 
Gasoline-powered aircraft have been the norm since the internal combustion engine was created in the late 1800s. Now, there is a new fuel in town, and it will be cheaper, easier to fuel, and more sustainable. Alaska Airlines and their investment arm Alaska Star Ventures, led by Pasha Saleh, head of corporate development, have partnered with ZeroAvia (London, California, Washington State) with a donated Bombardier Dash 8 Q400 to develop a hydrogen-electric powertrain on the existing aircraft. Once developed and tested, this prototype will serve as the model for engine retrofitting on other aircraft. 
By providing the airplane, support, and hangar space to ZeroAvia, Alaska Star Ventures will have an equity interest in the company as they develop the technology. Saleh said ZeroAvia's goal would be to retrofit other aircraft in the future. They started with a six-seat aircraft and saw success with hydrogen technology.
The challenges of gas-powered engines are many:
Aircraft creates emissions from burning jet fuel (releasing CO2, nitrous gases, water vapor, soot, sulfate, and particles into the atmosphere. Source: Environmental and Energy Institute)
Aviation is the fastest-growing source of greenhouse gas emissions, which will be mitigated with the new powertrain. (www.zeroavia.com)
Climate is affected by other substances emitted by aircraft – increasing cloudiness, ozone, contrails, soot, and water vapor. (www.zeroavia.com)
Saleh said, "Bombardier is a good platform. Alaska operated a fleet of them for 20 years. If you want to decarbonize regional aviation, start with a proven airframe, a rugged workhorse."
The benefits of moving to a hydrogen-electric powertrain are many:
On-site airport production of hydrogen fuels reduces fuel transportation and costs.
Water vapor, the output of a hydrogen engine, is much cleaner and has no emissions.
Renewable sources will lower the costs for the airlines to operate.
The concept of creating new hydrogen-electric powertrains is being used on regional aircraft – smaller and with shorter-distance trips.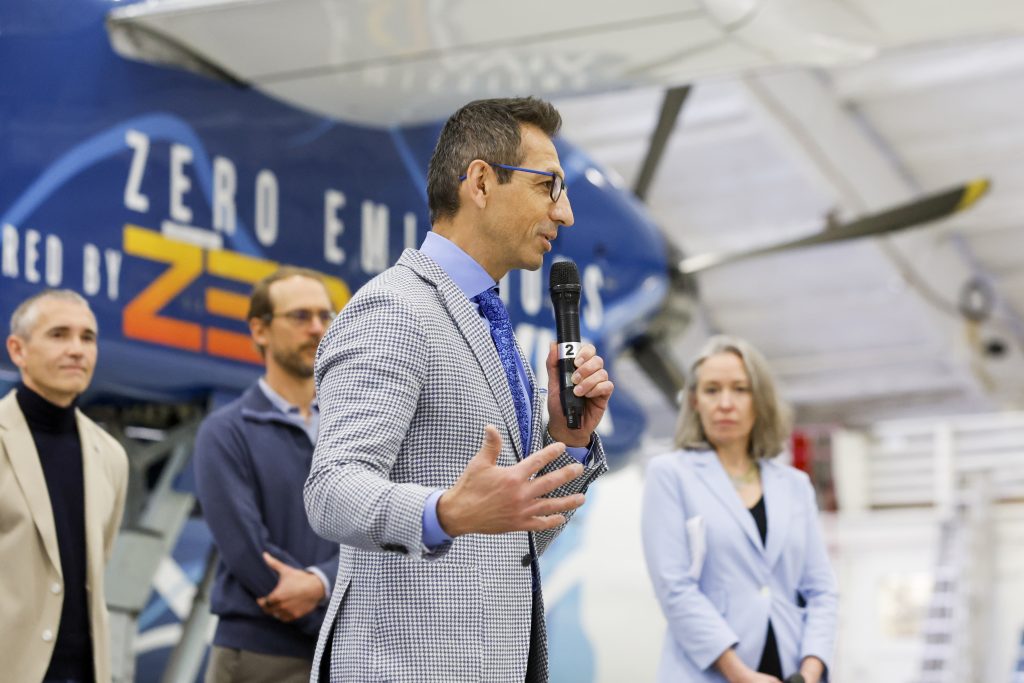 Saleh said this concept of retrofitting one of the aircraft came from a conversation between him and a former colleague with McKinsey (global management consulting,) about retrofitting aircraft to reduce carbon emissions. He said that when he approached ZeroAvia about retrofitting a 76-seat aircraft, they said, "No way, are you crazy? It's too big; too heavy; we are looking at a 19-seater." He said he kept pestering them, and one day, they continued the discussion, leading them from "no way" to "yes, this seems possible." He said that in a short time, the technology evolved to where it was feasible. "It wasn't scientifically possible a couple of years ago," Saleh added. But now it is in process.
Dr. Val Miftakhov, founder and CEO of ZeroAvia, is a long-term sustainability entrepreneur. He had worked with McKinsey, and at Google. He has since founded other companies in bioinformatics and smart electric vehicle (EV) charging. Now with ZeroAvia, he is working to bring the "world's first zero emission aviation powertrain to market." (www.linkedin.com/in/vmiftakhov/). Miftakhov spent his educational years in physics, earning a Ph.D. in Physics from Princeton University.
Miftakhov started his last business as the world's largest network of smart EV charging stations. They developed innovative hardware and software for EVs. After six years of running that business, he moved toward sustainable aviation. He said it was a natural fit. He founded ZeroAvia, focusing on large commercial aircraft due to their climate impact. "It is a 1.5 trillion market," he said. They started by understanding what the technology would be to create change. They determined that it would be electronic fuel cells. Allied Market Research said the sustainable fuels market was valued at $72.1 million in 2020. (www.alliedmarketresearch.com/sustainable-aviation-fuel-market-A13064).
ZeroAvia has ten people on its management team.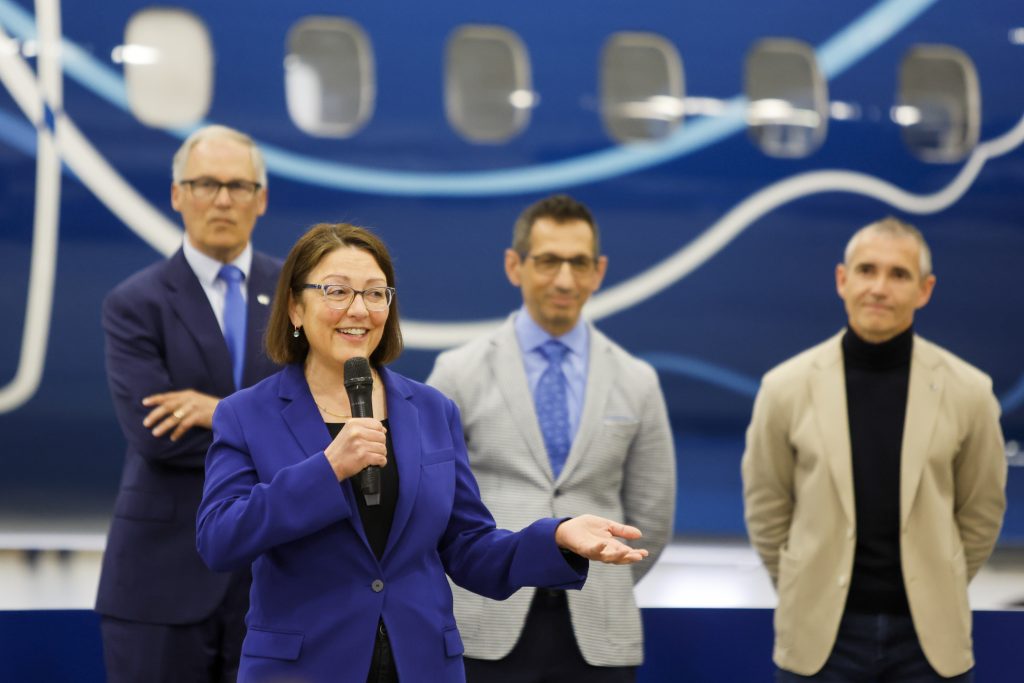 Dr. Youcef Abdelli, CTO of ZeroAvia, is charged with engineering the electric propulsion system for the aircraft. He came from Amazon, where he was a principal propulsion engineer and MagniX, as head of power electronics and electric systems.
Abdelli said, "The hydrogen fuel cell is running today in cars. It was easy in the past – people used batteries, but that doesn't solve the problem. This has an application – Toyota has a fuel cell car using hydrogen; it is easy to drive and fuel. From an emission perspective, we must solve this aerospace problem. It will flow more globally and perhaps to cars in the future. It is operating today and is great."
The project came from "Pasha being a great connection and champion," said Miftakhov, and added that the involvement toward sustainability "spans across Alaska Airlines. They are an active carrier with regional flights on the West Coast of the U.S. and Hawaii – into the Southwest, Oregon, California, and Washington."
He said that the availability of clean electricity is important to the project. They plan to develop systems to make their fuel at airports, mitigating the need for gasoline-based fuel transportation to airports for regional flights.
ZeroAvia is partnered with Shell Energy to help develop sustainable aviation fuel (SAF), a company goal for Shell to decarbonize air travel by 2050.
Miftakhov said the Q400 is suitable for retrofitting powertrain work because "It is the most recently designed in that market. It is the one used by Alaska and other carriers. We have a partnership with De Havilland Canada, with support from the aircraft manufacturer, to get the products to market."
Currently, ZeroAvia has two engine programs for different segments and aircraft sizes. The smaller engine is for smaller commercial aircraft with 10-20 seats, such as the widespread Cessna Caravan model, and is targeted for launch in 2025.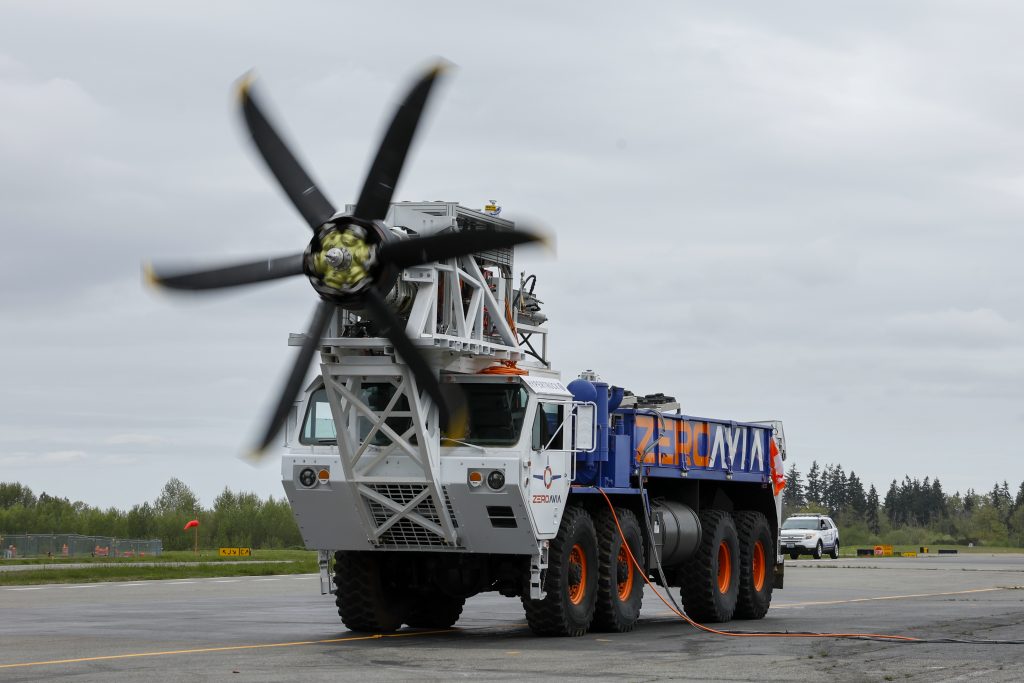 Once that has been implemented, they will go to a larger engine aircraft, 40-80 seats in size. They are working on "expanding the applicability" of their product into regional jets. With the Q400, as well as propeller planes, they will implement the system.
Miftakhov said, "The importance of the larger engine, as we redesign it, expands the applicability to regional jets. The Mitsubishi will be another program. The Q400 is important for regional jet applications."
One big factor that will change with the hydrogen-electric system is refueling. The fuel times will significantly decrease from fossil fuels to hydrogen refueling. For smaller aircraft today, "a truck shows up and refuels the smaller aircraft," Miftakhov said. They have a partnership with Shell for the new equipment. They hope to be able to refuel larger planes at the gates with the new fueling system, which will "be invisible" to the guests on the flight. However, the fuel will be made on-site at the airports.
As large-scale fuel users, airports must set up fuel infrastructure and fuel delivery logistics to the location. In the U.S., there are 140,000-plus gas stations across the country. The total number of commercial airports is about 5,000-plus, with about 20,000 commercial and private airports. On-site production removes the logistics of moving fuel around, saving tremendous costs.
Miftakhov said he could leverage his experience in understanding fuel systems and car charging stations, as he explained the economics of transforming from jet fuel to hydrogen fuel. "For small aircraft, launching in 2025, we will break even." But the cost will decrease as the aircraft are rolled out en masse with the new fuel systems. The electricity costs and production will decrease, ultimately saving airlines money.
Saleh said fueling on-site at the airport is much more logical and cost-effective. There is a company called Universal Hydrogen that is competing with ZeroAvia, but Saleh added, "We are the only airline that contributed an airplane from our fleet." He feels that gives the airline a hand in this development.
He said that ZeroAvia now owns the airplane, but the work will be done at the Alaska Airlines hangar at Paine Field, with their staff hired by ZeroAvia to work on the project.
Expect to see announcements of aircraft flying with hydrogen-electric fuel in 2025. Saleh said there is much hype right now in advanced air mobility and eVTOL, but this partnership has a realistic goal that will be realized. The airline "won't just be decarbonized, but will have zero emissions," Saleh said.
Specifications of the Q400 (per Alaska Airlines)
Crew: 2 Pilots, 2 Flight Attendants
Range: 1,114 nm
Length: 107 ft, 9 in (32.9 m)
Coach seats: 76
Typical Cruise Speed: 400 mph (644 km/h)
Wingspan: 93 ft, 3 in (28.4 m)
Max. Cruising Altitude: 25,000 ft (7,620 m)
Alaska Star Ventures
Learn more: Alaska is investing in emerging technologies to help the planet – Alaska Airlines News
ZeroAvia
Learn more: www.zeroavia.com/about-us