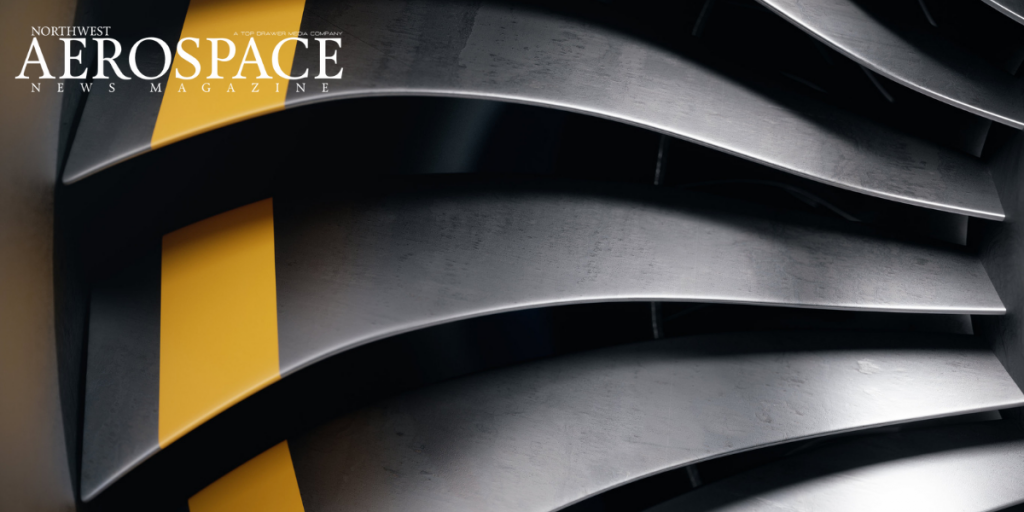 By Jennifer Ferrero, APR, DTM
Walk into almost any manufacturing plant in the Northwest producing composites and see spools and prominent racks of Toray advanced composite materials lining the walls. The products are ubiquitous and used in everything from aerospace and space technologies, to phone cases and musical instruments, to athletic equipment. The products are extremely resilient and can subsist in diverse weather conditions and temperatures.
Toray, a Japanese chemical company formed in 1926 as a textile company was named as Toray Industries in 1970; they started producing Torayca® carbon fiber in 1971. They were one of the first carbon fiber creators. They have plants worldwide in 26 countries with 48,000 employees. The composites divisions are in Japan, China, Korea, Europe, Mexico and North America and support OEMs like Boeing and Airbus but provide products to additional aerospace OEMs and their suppliers worldwide.
Toray is known for fibers and textiles (from pantyhose to activewear); performance chemicals (resins, elastomers, films, powders); carbon fiber composite materials (composites, prepreg, laminates, fabrics); environment and engineering and life sciences, according to the website, http://www.toray.com.
Toray Advanced Composites USA, http://www.toraytac.com, has two locations in northern California. They are headquartered in Morgan Hill, California, with a location in Fairfield, California — there are 350 employees between the two sites. The composites materials that go into aircraft manufacturing come out of Toray facilities in Tacoma, Washington, out of the California division and also Toray facilities in Japan and Europe. Their location in Tacoma, Washington with about 1,000 employees, called Toray Composites America, Inc., specializes in prepreg for aerospace, recreational and industrial markets. Their composite materials are utilized in mass production of the composite structures within Boeing's venerable 777, 787 and 777x wide body commercial transport aircraft.
With the omnipresent nature of the products, market awareness is high for Toray products. But, at the end of the day, Toray's business is one of finding solutions for their customers — it is a people business.
People tend to do business with those they know, like and trust — and it was at a composites conference in Denver, Colorado that Toray's VP of Expert Services was flying home from the meeting and developed a conversation with an Erickson Incorporated Chief Engineer, also a conference attendee, over a beer in an airport bar. They were mulling over the timeworn aluminum blades of the Erickson helicopters used for aerial firefighting, timber harvesting, search and rescue and other applications — and came to the conclusion that there was a better way to make the blades lighter and more resilient.
Jered Wagner, VP of Aerospace Sales for Toray Advanced Composites said, "They had a piece of extrusion equipment from WWII and had a metallic blade that was difficult to manufacture. They had to come up with an alternative technology to make the blades."
Toray's Account Manager on the Erickson account, Kendall Oblak said, "The aluminum blades were hand shaped, hand crafted, hand twisted – extremely expensive to make," and he added, "Aluminum doesn't have particularly good fatigue properties." Therefore, the problem had been identified and the two groups decided to partner to find a solution for Erickson's S-64 rotorcraft blades and CH-54 SKYCRANE Fleets.
Toray Advanced Composites' CTO, Scott Unger has a deep background in advanced composites — a perennially flourishing industry — and had founded Bryte Technologies in Morgan Hill in the early 1990s, which became TenCate and later became Toray Advanced Composites as a part of the composite and carbon fiber division. He ironically had worked with Toray's Oblak years prior. "We go way back," Unger said. Oblak added that he was also a founder of Bryte Technologies. He elaborated that the solution of carbon fiber blades for Erickson wasn't the first time that the carbon fiber material had been used on rotor blades, but the unique value proposition from Toray was the BT250E-6 epoxy used in the project, which was created for them.
The corporate tagline for Toray is, "Innovation by Chemistry," which Unger said means, "Toray's philosophy is that they can change the world and make the world a better place through chemistry." He added that the Boeing 787, "is the most efficient aircraft today because of the use of Toray's composites."
The overall Toray corporate company employs thousands of chemists according to Unger, who said, "We have 50 chemists in our division." Their focus is on materials science and chemistry and the corporate statement says they will, "pursue technological innovation founded on chemistry. Our activities are driven by an unwavering aspiration to become a global top company of advanced materials."
Still, like most aerospace programs, nothing happens quickly. The composite blade project with Erickson took about 11 years to become certified. But Wagner said, "What set us apart as a company is meeting the needs of Erickson with regard to manufacturing —  allowing the blade structure to be produced without the use of an autoclave, which offers a lower cost for production." The blade contains multiple layers, with the special epoxy in a specific pattern and orientation, which is consolidated with heat and vacuum pressure in an oven, to create the finished composite blade.
Wagner added, "The partnership between Erickson and Toray Advanced Composites was based upon scale and timing. We were the right size for a technical resource and were responsive." Going forward, Wagner said, "The process is becoming faster and more streamlined. New innovations will not take as long."
According to a press release by Erickson, Inc. (May 2, 2020), "Erickson built a composite manufacturing facility from scratch in 2015. After thousands of hours of design, testing, and analysis by Erickson's engineers and partners, the new composite main rotor blades are now approved by the FAA for the S-64E with an initial life that will increase as fatigue testing continues. Certification for the CH-54A is expected to follow quickly in the coming weeks…"
Billy Johnson, chief engineer at Erickson said, "The pilots love the new blades. They mainly notice two things right away: First, as they lift objects or water, they notice a dramatic reduction in engine torque required when compared to lifting the same thing with metal blades. Second, they notice a dramatic reduction in vibration, especially when transitioning from forward flight to hover (which typically would rattle the fillings out of your teeth). The new blades make for a much more comfortable ride."
Developing innovative customer solutions is not new to Toray Advanced Composites. Unger said, "We support Airbus via our European divisions, and Toray is a key global partner for Boeing on the 777, 787, and 777x programs." As a composite manufacturer, they are also involved with the National Institute for Aviation Research (NIAR) that maintains a national database about which Unger said, "NIAR has created publicly available databases to accelerate the use of composites in aviation."
As with many partnerships in the aerospace industry, Unger said, "When an application like this qualifies as a material supplier, it's like getting married — it is an expensive and very important decision — that's why working together is so important. If we weren't working toward a common goal, we wouldn't be able to develop the resin technology and have Erickson design and manufacture the blade. Without a strong partnership, it won't work."
Toray Advanced Composites is involved with some new and unique applications in aerospace/aviation, defense, and urban air mobility. They say that there are similarities between general aviation, aerospace, urban air mobility, and commercial aircraft applications, "They are similar systems and processes, and are the building blocks to the next generation of vehicles," Wagner said.
Vehicles like the electric vertical take-off and landing (eVTOL) otherwise known as urban air mobility vehicles, will use composite fiber from companies like Toray for lightness and strength, especially when carrying people and products.
"Toray is the world's largest manufacturer of carbon fiber and of composite materials in the U.S.," said Unger, which is understandable when you hear about other supplier relationships with Lockheed Martin, Northrop Grumman, Raytheon, Collins, and more. According to http://www.sciencealert.com, Airbus is creating a carbon fiber aircraft, Airbus A350 XWB, with a structural frame that is 50 percent composite materials. They claim it is light enough to greatly reduce fuel costs but will also help reduce jet lag upon arrival.
Additionally, Toray's carbon fiber materials are already being used in space applications. Unger said, "We came in with a different type of resin when there was a need to improve the materials being used in space. We carved out applications within the space industry and changed the paradigm of how they were used in space to help us grow our business." The website touts, "Our materials perform in the harshest environments imaginable — from a near vacuum at temperatures approaching absolute zero to the highest levels of solar radiation."
Wagner said that Toray's materials have been used in space applications since the early 1990's, beginning, "in satellites, launch vehicles, as well as planetary probes and rovers."
Unger added, "Every Mars planetary mission since 1994 has been enabled with Toray materials on it."
As Toray continues to build market share, they emphasize, "We are a materials manufacturer. Our efforts in design engineering and technology come from our development of resin and fiber technologies. We develop the composite materials to solve a problem for customers and to meet their engineering end goals for that part."
He added, "The design of the material combinations and how that material is supplied to our customers … the formulation of the resin matrix that holds the fiber together — that's what resists the environmental or physical challenges (like space, resisting cracking, or fatigue resistance, toughness)."
Unger and Wagner added, "It's the resin that gives toughness and durability."
At Toray Advanced Composites, they are finding solutions across industries and ultimately solving problems for their customers using Innovation by chemistry that reflects strength, lightness, and cost savings that are ultimately better for everyone.
Location focus:
Toray Advanced Composites USA (Morgan Hill)
18255 Sutter Blvd.
Morgan Hill, CA 95037
Toray Advanced Composites USA (Fairfield)
2450 Cordelia Road
Fairfield, CA 94534
Erickson, Incorporated
5550 S. Macadam Avenue
Suite 200
Portland, Oregon 97239