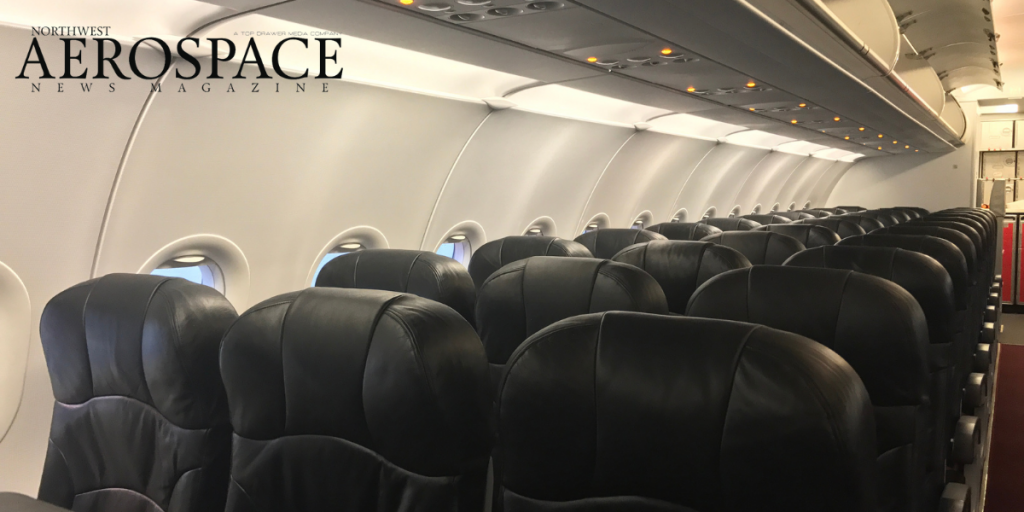 By Jennifer Ferrero
Thinking back to a pre-COVID world, air travel could be met with dirty planes and tight spaces — long lines, and frustrations with security protocols. That pack of peanuts became a tangible symbol of what people could expect en route to a destination.
But why should air travel be that way?
The technological and innovative design firm Teague is wondering just that.
For anyone who has been fortunate to fly Emirates airline to a destination like Dubai, they have likely experienced the pleasure of prime flying — even when flying coach! A clean flight, beautiful design, excellent food, and astute flight staff are all a part of Emirates. Teague is a consultancy who combines experience with technology and design and a deep understanding of human behavior, and has helped form today's reality of Emirates Air. In recent interiors, they've even included the United Arab Emirates national tree, the Ghaf tree into the design, illuminated onto a cabin panel.
In recent years, they worked with Emirates and other partners to redesign the 777 fleet. As described on their website, http://www.teague.com, they were involved with, "A complete cabin refresh from nose to tail, Emirates' new 777 airplane features a modern color scheme, textured wall panels, and lighting design inspired by trends in residential interiors. Custom-designed patterns and fabrics found throughout the cabin unify the brand, pulling a red thread through the cabin design of Emirates' entire fleet."
While Teague works in the aerospace/aviation industry on an international scale, they are accomplished in many other industries too, such as technology, mobility, and space. They also work in the automotive industry, in bike design, and they help define the coffee experience at Starbucks.
It's fair to say that Teague is behind many of our modern experiences — or they aim to be. Lindsey Maxwell, vice president of Teague said, "The main purpose of Teague is to build a new and better world. We have the user or human which is center to anything we create. We are trying to create the best futures for people."
Teague started as an industrial design firm, and like many companies in the Northwest, began with Boeing back in the early 20th century.
Today they employ a principal futurist along with a host of passionate, interesting, and sincere people who don't take themselves too seriously. They are over just being smart or creative, and attitudes are more reflective of creating life-changing scenarios.
Principal Futurist Devin Liddell, looks like he could, and does teach at an art school, but he is also a savvy businessman working to deliver on the promise of a future vision. He has been with Teague for 10 years and said, "I was keen to join Teague because they make things." He's worked in the branding world before and prefers the idea of a tangible output of a product to creating communication around branding. "I've always looked at a brand for a proxy of understanding the future — a great brand always has a sense of optimism and forward thinking," he said.
If you are wondering if a futurist is something like a Dalai Lama or a soothsayer sitting atop a mountain in robes, Liddell is not that. He is a guy who goes to the office and conducts a lot of research. He listens and works with a team of thoughtful people to bring new ideas forward.
When thinking about taking an idea from concept to fruition, let's go back to Emirates. Maxwell said that Emirates highly values their customers and the experience they have on a flight. "The senior folks pay attention to design," which she said doesn't always happen in aerospace. She cited that in many companies there is a realization of what design can bring to the market and its effect on competition. But ultimately, she said understanding the customer experience and designing for it, is what creates repeat customers. "That is the advantage through design, the impact it creates on people," she added.
Creating impact, continually and with a variety of customers is what Teague aims to do. In the airline industry, Teague keeps energy flowing with Senior Director of Airline Experience, Anthony Harcup. The enthusiastic leader said his role is to "bring brands alive in the cabin." He's worked in industrial design for 22 years and is motivated by the details, but also understands the fiscal impacts for his clients.
He said regarding airline seats, for example, that they are foundational to the airline experience. He said, "There have been some innovative approaches to help with the comfort of seats." But he noted that there needs to be an awareness of the facets of the seat — the lightness, the form, and the cost. But he doesn't discount, "The shape of the seats should better accommodate the human body."
Harcup understands a lot of things when it comes to aircraft interiors, including a passenger's need to rest while on a long flight. He knows that weight and density of the seat play a part, and he sees the airlines paying attention to sustainability concerns as well.
Within his role, Harcup pays attention and engages. He participates in Red Cabin, an organization that brings aerospace leaders together to engage on design issues.
Red Cabin seeks to inform, "How we travel," according to their website, http://www.redcabin.de. They do this through summits and say that the forums create progress and synergy.
Maxwell, who has been with Teague for 18 years, enjoys the learning environment. She said "I am a trained industrial designer from Western Washington University in Bellingham," she added that regarding her work with Teague, "I have never been bored; I push myself, try new roles, find out what aligns with my strengths." She said she loves working there because of her love for travel and aviation and she enjoys working with the clients and staff.
She is now in a position of hiring new employees and interestingly, one of the more important things to her is finding someone with a great attitude that can stand with them in the good and bad times. She said, "I hire as much for character as for skill, I need someone that I can travel with — from canceled flights to all-nighters." For her it is about having a co-worker who can effectively roll with the punches.
Finding staff with that approach could be why they've had one of the longest tenures in the design industry for the type of work they do. Especially work in aviation, "We've always done work in aviation," she said.
A new area of business for them, that personally excites Maxwell and her team, is space. "I love this market; it is so exciting. It is not new to us. We contributed to designing the first international space station." But Maxwell added that the audience has changed regarding their end user. In past work, they designed an experience for a highly trained and technical astronaut. Moving forward, regular people — and "well-resourced people," according to Liddell, will be the ones buying into the space experience. To that point, Maxwell said it needs to be "intuitive and incredibly safe."
Another hot topic is urban air mobility, which Maxwell describes as "a race right now." She said that there are many organizations and there is high demand for rapid development of eVTOL and that those with the best value proposition will help vet those who stay in the industry and those who don't, "What is the offer the company will make (in distinction) from others in this market?" They are helping eVTOL to determine their value propositions.
Regarding the services with Teague, while you may not need to be "well-resourced" to walk in the door, Maxwell said they have many different options in working with clientele. In some cases, they partner with certain companies; in other cases, it may be a term-based engagement. "Each client engagement is unique; each approach is unique," Maxwell shared. She said they ask, "What value can we bring to this project?" She noted that some projects are joint ventures. But she said that if you go to a straight-up industrial design firm, then you will get an industrial design answer to your question. If you come to Teague, Liddell said, "It is a more holistic approach." He added that they look at projects through an interdisciplinary approach, "There is a rich confluence of many factors." Harcup added, "The work is industrially credible, yet rooted in strategy. It is a holistic approach; that's why we are working with some of the biggest brands in automotive and aviation. We are doing a ton of work in space and other modes of transport; it is an area of rapid growth."
When it comes to future-visioning, "we peel back the layers to take something fantastical into something probable," Liddell said. He added, you must understand different time periods, and history, "the medieval period was very sophisticated." Liddell also noted that sometimes if you are watching the trajectory and maturation of one technology and its growth, you can put another technology/concept or idea alongside it and see it come to fruition when the first one reaches a pinnacle.
There is an interconnectedness and intelligence to the work conducted by Teague. They cross disciplines and bring smart new ideas to the marketplace. But the devil is in the details and it may be what keeps them grounded in creation and continual improvement.
Designing to "build a new and better world," with a focus on the human experience at the center, while crafting, "the best futures for people," may sound ambitious, but with the company's longevity and keen focus it seems just right for the future of Teague.