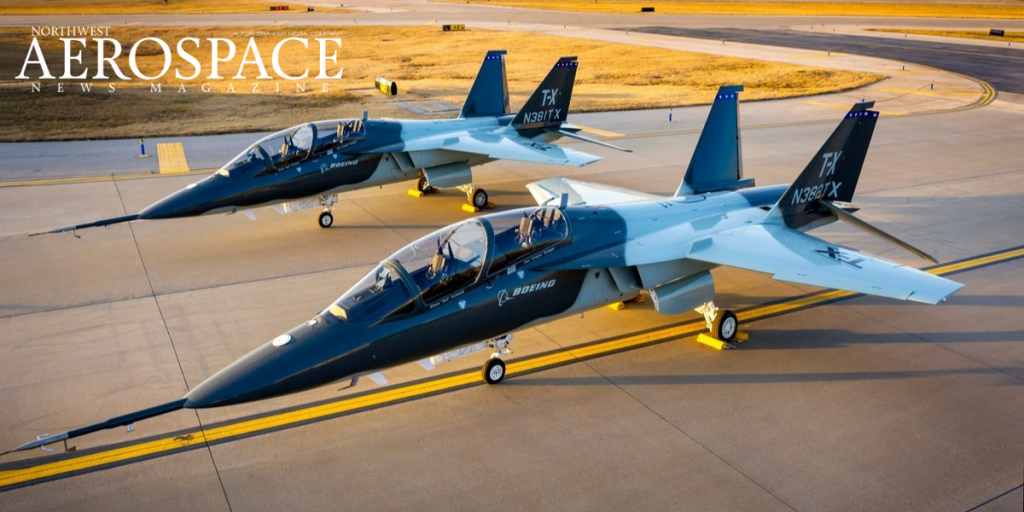 Despite recent political tensions between the U.S. and members of the NATO alliance, as well as increasing implementation of protectionist trade policies in select markets, defense collaboration between transatlantic allies remains strong. This holds true across the U.S. and European defense industrial bases, and U.S. export opportunities to Europe and European participation in U.S .programs continue apace. Aerospace and defense suppliers in the Pacific Northwest can position to take advantage of these market dynamics and related opportunities.
European Deterrence
The U.S. National Defense Strategy (NDS) released in 2018 identified a return to "Great Power competition" as the leading threat motivating U.S. defense policy. This calls to mind peer competitors such as Russia and China — and for Europe, a resurgent and aggressive Russia harkens back to NATO's Cold War posture and the prominent deterrent role played by American forces. But even prior to the 2018 NDS, the U.S. had launched its 2014 European Reassurance Initiative (later renamed European Deterrence Initiative) to provide increased presence, training, infrastructure, and partnership capacity in Eastern Europe to counter the perceived threat following the annexation of Crimea.
Notably this initiative has seen U.S. forces forward deployed to Poland and Lithuania, with Baltic neighbors Latvia and Estonia also requesting U.S. presence. An agreement was reached with Poland in 2019 to increase U.S. presence by another 1000 troops and build out defense infrastructure. While the U.S. is withdrawing 12,000 personnel from Germany, nearly half will be redeployed to other NATO countries, including Poland, and those being re-based in the U.S. are likely to return to Europe on a rotational basis.
Building partner capacity involves more than just increasing U.S. presence. These initiatives have been accompanied by export sales to Eastern European allies to build capability, as well as spending on equipment for U.S. forces in Europe. Prime examples include Poland's purchase of Patriot missile defense systems for 4.8 billion dollars in 2018 and its agreement to acquire 32 F-35 fighter aircraft for 4.6 billion dollars in 2020. U.S. forces have funded improved armament for Stryker vehicles that have deployed to Eastern Europe as well as an Aegis Ashore missile defense system in Romania, with another site planned in Poland.
It is not just the perceived threat to Eastern Europe underlying continued U.S. defense ties to Europe. The U.S.-U.K. defense collaboration remains strong and the "special relationship" may be bolstered post-Brexit as the U.K. seeks new bilateral agreements with the U.S. As another example, the U.S. and Norway have forged increasingly close ties, particularly in the naval domain as NATO allies seek to counter increasing Russian submarine activity in the North Atlantic. The U.S. Marine Corps will also be increasing the number of Marines on rotating deployments to Norway, despite scaling back its full-time presence, as part of America's European defense posture.
Transatlantic Industry
In this environment, it is not surprising that U.S. defense exports to Europe have remained robust. Over the past three years, Defense Security Cooperation Agency (DSCA) arms sales notifications to Europe — representing intent to export items but not actual sales — have trended from 10.6 billion dollars in 2017 to 37.3 billion dollars in 2018 and 19.8 billion dollars in 2019. Foreign Military Sales (FMS) facilitated by the U.S. government remain popular among NATO countries, given the high capability and ensured interoperability with U.S. forces. The transatlantic defense market, however, has increasingly become a two-way street.
Many European suppliers, seeking to participate in the large U.S. defense market, established and grew U.S. subsidiaries in the early 2000s through the past decade. European governments, having acquired U.S. export hardware for decades, began to expect the U.S. to import equipment in kind or at least provide substantial workshare on export programs. And U.S. customers have increasingly warmed to best-in-class, readily available systems developed outside the U.S.
In response to these trends, European companies such as BAE Systems and Leonardo have large, well-established U.S. businesses built through acquisitions and subsequent growth (including BAE's recent large acquisitions of Rockwell Collins' GPS receiver business and Raytheon airborne tactical radios). Other suppliers such as Thales or Saab have likewise built and continue to grow U.S. operations. Meanwhile leading U.S. defense contractors — including Lockheed Martin, Raytheon Technologies, and General Dynamics — have significant presence in Europe and exposure to local markets.
As a result, several more fully transatlantic defense programs have emerged. The F-35 program, with its broad multi-national partnership, represents the most prominent example of this trend. Other programs that similarly illustrate growing collaboration include the U.S. Navy's award of its new frigate to Fincantieri based on the Italian FREMM design and several non-U.S. entrants for the Army's Next-Generation Combat Vehicle. The defense aircraft market has also seen transatlantic partnering emerge in addition to continued export opportunities for suppliers.
Aerospace Export Market
Boeing and its suppliers in the Pacific Northwest are experiencing the impacts of ongoing U.S.-European cooperation firsthand, with the U.K. and Norway recently joining programs based on derivatives of the 737. The Royal Air Force (RAF) joined the U.S. Navy, Australia, and India as customers for the P-8A maritime surveillance aircraft with a 3.9 billion dollar order for nine aircraft in 2016. Norway soon followed with a 1.2 billion dollar order for five aircraft in 2017. Commonality in these allies' airborne anti-submarine warfare fleets will further strengthen cooperation in this area. The RAF then followed with a 1.9 billion dollar order for 5 E-7 airborne early warning and control aircraft also based on the 737 airframe, joining Australia, South Korea, and Turkey on this program.
Beyond these special mission variants, Boeing continues to pursue transatlantic opportunities for its tactical aircraft programs. Germany recently announced its intent to acquire up to 45 F/A-18E/F Super Hornet and EA-18G Growler aircraft to replace its retiring Tornado fighter fleet, in part driven by NATO requirements. The Super Hornet is also in contention for Finnish and Swiss requirements to replace several dozen aging F/A-18C aircraft.
Boeing's partnership with Swedish defense contractor Saab to develop its winning entrant in the U.S. Air Force T-X trainer replacement program is a notable example of transatlantic collaboration. The T-7 is a new aircraft designed jointly by Boeing and Saab, with production shared between teammates as well. Having won the program for at least 350 USAF T-7A Red Hawk aircraft, Saab announced in 2019 plans to build a U.S. facility for its manufacturing role. Given its ties to Europe, it is not surprising that the T-7 would have significant export potential: Boeing projects total demand for upwards of 2,000 aircraft in multiple variants. It may be a contender for Sweden's own requirement to replace its basic training jets, while Serbia and Australia have shown initial export interest.
American rotorcraft programs have enjoyed export success as well despite a robust European helicopter industrial base. Boeing has continued to win export orders for upgrades of its AH-64 Apache attack helicopters to the "E" variant for customers including the U.K. and Netherlands. In addition, Boeing has provided the latest CH-47F models of its heavy-lift Chinook helicopter with large orders by the U.K., Netherlands, Italy, and Spain. By comparison, Sikorsky (since acquired by Lockheed Martin) acquired a production facility in Poland to build an international variant of its UH-60 utility helicopter for sales in Europe and elsewhere. The two U.S. helicopter suppliers will face off for Germany's requirement for 40 to 60 replacement heavy-lift helicopters, with Boeing's CH-47 competing with Sikorsky's CH-53K.
Across the Atlantic, Boeing partnered with Leonardo's AgustaWestland division to offer a derivative of the Italian AW139 helicopter for the U.S. Air Force's vertical lift replacement for executive transport and security missions. The resulting MH-139A was selected by USAF with 2.4 billion dollar award for 84 aircraft in 2019. Looking forward, a Boeing-Sikorsky team is competing with Textron's Bell Helicopter division for one variant of the Army's Future Vertical Lift program while Sikorsky and Bell compete for another, with the potential to replace up to several thousand aircraft in multiple configurations across DoD fleets. The teams have demonstrated both modern conventional helicopter designs as well as advanced architectures such as coaxial rotor and tiltrotor concepts to achieve requirements for increased speed, lift, and range. The intent is to field helicopters initially in two variants (reconnaissance / attack and long-range assault) in the 2030 timeframe, and it is likely that export opportunities will follow.
Finally, in the unmanned aircraft systems (UAS) market, General Atomics' MQ-9 Reaper franchise has seen export success with orders by the U.K., France, Italy, and Netherlands among other international users. Boeing's Washington-based Insitu business has established a global customer base as well, including the U.K. and a 2019 foreign military sale to Poland. The U.S. Air Force recently awarded parallel 400 million dollar development contracts to Boeing, General Atomics, Northrop Grumman, and Kratos Defense for its Skyborg unmanned "loyal wingman" program. If successful, this future combat UAS capability could generate export interest — especially for customers of other U.S. tactical aircraft capable of manned-unmanned teaming. However, Europe is working on its own similar concepts, such as the U.K.'s Lightweight Affordable Novel Combat Aircraft (LANCA) program. Boeing meanwhile has developed a "loyal wingman" concept in its Australian business that could form the basis of its design for these transatlantic requirements.
Summary
In the evolving global environment, suppliers can watch for key indicators that could foretell shifts in transatlantic relations and related export markets. How will the incoming presidential administration shift U.S. posture towards allies? Will protectionist economic policies in the U.S. and Europe increase or abate? How do COVID-19 related disruptions to supply chains shift the balance between globalization and localization?
Overall, however, the dynamics of the global threat landscape as well as the evolution of the transatlantic industrial base suggest the need for more, not less, collaboration between U.S. and its NATO allies in Europe. This will create an enduring export market for U.S. suppliers representing upside to existing and future U.S. programs, notably multiple aircraft programs with footing in the Pacific Northwest. In addition, increasing content and participation by European companies in U.S. programs helps to further open the transatlantic market. These companies may in turn seek local partners to capture and execute U.S. work, creating opportunities for aerospace and defense suppliers in the Pacific Northwest and beyond.