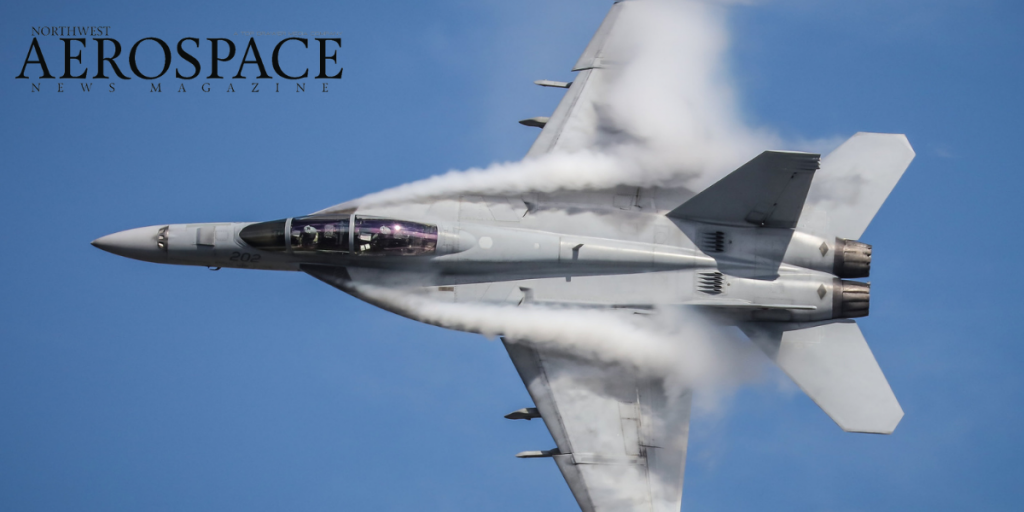 The most lethal and survivable F/A-18 Super Hornet, the Block III, has been delivered to the U.S. Navy, kicking off a new age in Super Hornet air dominance.
"The fleet needs capabilities to keep its edge," said Capt. Jason "Stuf" Denney, U.S. Navy F/A-18 and EA-18G program manager. "Getting the first operational Block III in our hands is a great step forward in supporting our capability and readiness goals."
The Block III capabilities include an advanced cockpit system with a 10-inch-by-19-inch touch screen display, the largest in any fighter in the world; enhanced networking; reduced radar signature; open missions systems design standards; and a 10,000-hour airframe — a significant increase from Block II's 6,000-hour airframe — that translates to a lifespan of 30 years or more of active duty.
"We invested in Block III technology and developed the capabilities in partnership with the Navy to meet its emerging requirements," said Jen Splaingard, Boeing vice president of F/A-18 and EA-18G programs. "The hardware upgrades are complete. Today we are maximizing the open hardware and software and developing the apps to keep Block III ahead of future threats. We are giving Navy pilots the tools to make the fastest and most informed decisions possible, now and in the future."
The ability to win in the high-end fight now and in the future is what matters to pilots, and a 10,000-hour service life means Block III Super Hornets will be frontline fighters for 30 years or more. To ensure the Super Hornet stays ahead of emerging threats for the next three decades, Boeing designed Block III for future growth. With an open architecture design and advancements in computing power, processing speed and networking, Block III can evolve as fast as new software develops — ensuring the fighter stays ahead of future threats.
"The future is all zeros and ones. It is all about the software," said David Shelley, F/A-18 and EA-18G missions systems director. "The open hardware and infrastructure within a Block III will allow us to develop software and ultimately deploy capabilities faster, saving huge amounts of time and cost."
Additionally, this capability unlocks the potential of the Common Tactical Picture (CTP), which gives all pilots in the fight the same view of the battle space. The Block III's sensors and other data-gathering mechanisms fuse the data into one space shared across all cockpits. This capability greatly increases pilot situational awareness and decision-making time.
In the cockpit, Block III's 10×19-inch touch screen display headlines the all-new advanced cockpit system. The revolutionary screen is customizable from fleet to squadron and down to an individual pilot. Block I and Block II F/A-18s had three primary displays — digital display indicators on the right and left side, and the multiple-purpose color display down low in the center behind the stick. Block III is one large area display that a pilot can manipulate and display in the best way to win the fight. There will be standardized displays, but any pilot can customize the display either through mission planning or real-time in the cockpit.
This combination of all Block III capabilities has revolutionized the F/A-18, creating the most capable and survivable Super Hornet ever. The Navy is on contract for 78 Block III Super Hornets, and for FY2022, the House Appropriations Committee (Defense Subcommittee) and the House Armed Services Committee have recommended including 12 more Super Hornets in the FY2022 budget.
Additionally, the F/A-18 is contending in campaigns in Canada, Finland and India. Germany has publically stated its intent to procure F/A-18 Super Hornets in the future. In short, the future is here for the Super Hornet and the platform promises to continue its position as the Carrier Air Wing's lethality workhorse for decades to come.
By: Kevin "Proton", McLaughlin, Boeing Director of U.S. Navy sales
Proton is the director of U.S. Navy systems for Boeing global sales and marketing. Prior to joining Boeing, Proton was a Navy F/A-18 Hornet/Super Hornet pilot and logged more than 3900 flight hours and over 900 carrier landings. Proton was commissioned and designated a Naval Aviator in August 1993. His sea tour assignments include Strike Fighter Squadron (VFA) 146 aboard USS Nimitz (CVN 68), VFA-151 Training Officer aboard USS Constellation (CV 64), VFA-94 Safety, Maintenance, and Operations Officer aboard USS Nimitz, and VFA-14 Commanding/Executive Officer (CO/XO) aboard USS John C. Stennis (CVN 74). Ashore, he served as a two-time TOPGUN instructor, the Commanding Officer of TOPGUN, the Commanding Officer of STRIKE, and as the Commander of Strike Fighter Wing Atlantic, the Navy's East Coast FA-18 Wing.