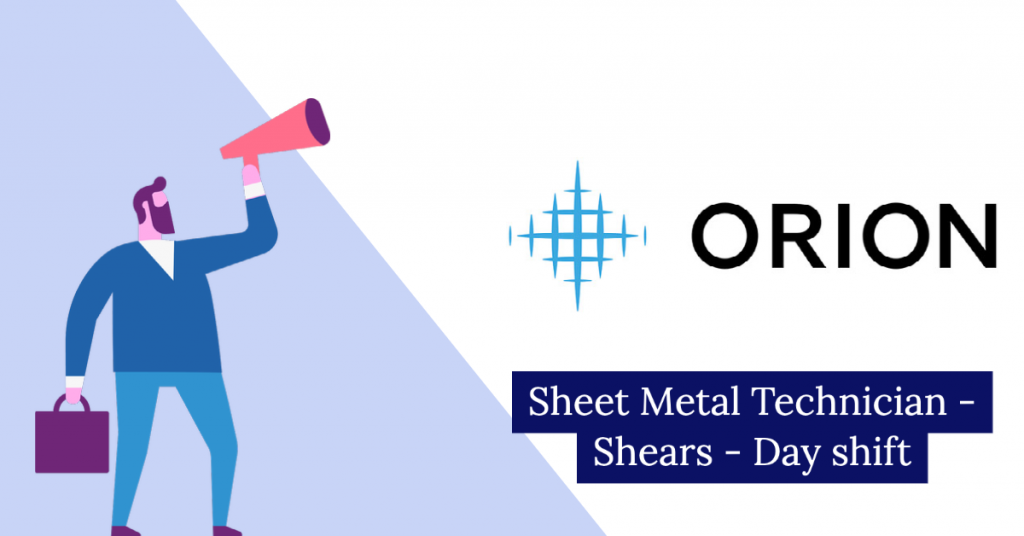 Sheet Metal Technician
Posted 09/28/2021
Status: Available
Contact: jean.sumers@orionworks.org
Company: Orion Industries
Title: Sheet Metal Technician – Shears – Day shift
Description Objective:
Orion Industries is a world class aerospace manufacturing company and a leading model for social enterprise, strengthening our community so that every individual has an opportunity to contribute and have a career. We offer hope and create paths to employment through building esteem, mentoring, training, education, community services and successful businesses. Every day we know we are part of something important; restoring hope in people who need it.
Essential Duties and Responsibilities:
* Process product using equipment such as: shear , blanking press, turret press, CNC router, manual router, CNC press brake, and
other equipment as identified on shop qualification matrix
* Meet safety and quality system requirements by following established procedures including:
* Using required personal protective equipment
* Following safety instructions for materials, equipment and work area
* Ensuring all equipment guards, safety switches and controls are in place and functioning
* Following manufacturing instructions such as work orders
* Using correct tooling and setting proper speeds and feeds
* Ensuring traceability requirements are met
* Meeting and documenting inspection requirements
* Performing operator repair and maintenance of equipment used
* Process work within performance and delivery requirements:
* Meet established productivity standards
* Follow communicated job priority instructions
* Communicate production delays and problems to appropriate supervision
* Teamwork
* Support all members of the manufacturing and Orion team fully to achieve company, departmental, and personal goals, and
objectives
* Participate in team and company meetings
* Role model proper work ethics and behaviors
* Role model proper hygiene and dress
Physical Demands:
The physical demands described below are representative of those that must be met by an employee to successfully perform the essential functions of the job. Reasonable accommodations will be made to enable individuals with disabilities to perform the essential job functions.
1.  Movement
STOOPING – Bending body downward and forward; this factor is important if it occurs to a considerable degree and requires full use of the lower extremities and back muscles – Occasionally – 10 – 20 times per day
KNEELING – Bending legs at knees to come to rest on knee or knees – Seldom
CROUCHING – Bending body downward and forward by bending legs and spine – Occasionally
REACHING – Extending hand(s) and arm(s) in any direction – Frequently
HANDLING – Seizing, holding, grasping, turning, or otherwise working with hand or hands; fingers are involved only to the extent that they are an extension of the hand – Frequently
FINGER DEXTERITY – Picking, pinching, or otherwise working primarily with fingers rather than with the whole hand or arm as in handling – Occasionally
FEELING – Perceiving attributes of objects, such as size, shape, temperature, or texture, by touching with skin, particularly that of fingertips – Occasionally
2. Auditory
TALKING – Expressing or exchanging ideas by means of the spoken word; talking is important for those activities in which workers must impart oral information to clients or to the public, and in those activities in which they must convey detailed or important spoken instructions to other workers accurately, loudly, or quickly – Frequently
HEARING – Perceiving the nature of sounds; used for those activities which require ability to receive detailed information through oral communication, and to make fine discriminations in sounds, such as when making fine adjustments on running engines – Occasionally
3. Vision
NEAR ACUITY – Clarity of vision at 20 inches or less; use this factor when special and minute accuracy is demanded – Frequently
FAR ACUITY – Clarity of vision at 20 feet or more; use this factor when visual efficiency in terms of far acuity is required in day and night/dark conditions – Seldom
DEPTH PERCEPTION – Three-dimensional vision; ability to judge distances and spatial relationships so as to see objects where and as they actually are – Occasionally
4. Lifting/Carrying
Position will lift, carry, or pull less than 30 pounds on a regular basis, with a maximum lift, carry or pull of 70 pounds; objects that are heavier than 40 pounds require a team lift; employee should seek assistance if an object is heavier than comfortable lifting, carrying, or pushing on their own
Work Environment:
The work environment characteristics described below are representative of those an employee encounters while performing the essential functions of this job. Reasonable accommodations may be made to enable individuals with disabilities to perform essential functions.
NOISE – Exposure to constant or intermittent sounds or a pitch or level sufficient to cause marked distraction or possible hearing loss – Frequently, operating within OSHA guidelines
ATMOSPHERIC CONDITIONS – Exposure to conditions such as fumes, noxious odors, dusts, mists, gases, and poor ventilation that affect the respiratory system, eyes, or the skin – Seldom – only in specific departments – weekly use of chemicals while utilizing personal protective devices
Requirements:
* Manufacturing experience utilizing various machines and processes
* Ability to interpret blueprints and specifications
* Demonstrated shop math skills
* Possess or acquire tools needed to accomplish work objective
* Organizational ability
* Problem solving skills
* Ability to work independently as well as collectively
* Customer service skills; able to relate well to all internal and external customers