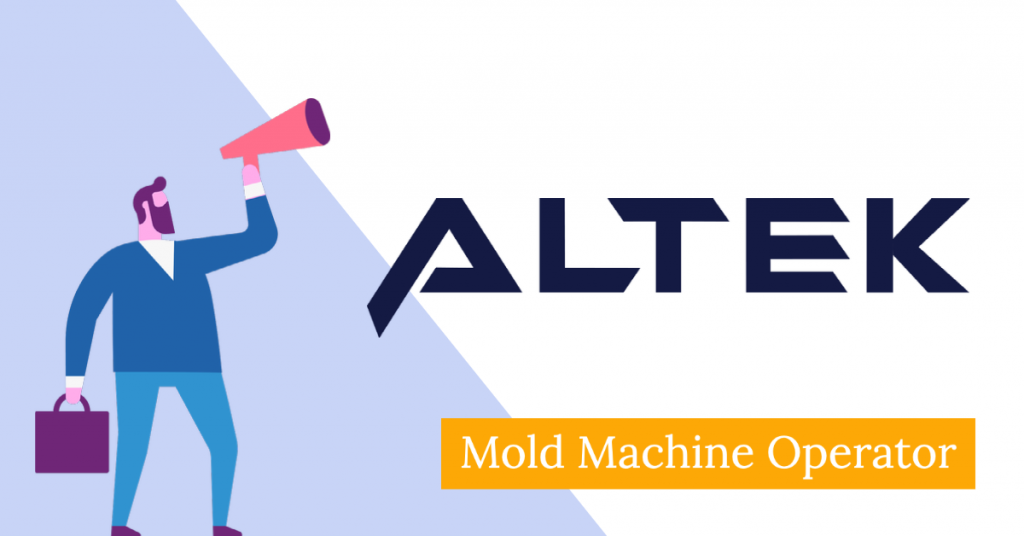 Mold Machine Operator
Posted 06/07/2021
Status: Available
Contact: ksherrill@altek-inc.com
Company: Altek, Inc.
Title: Mold Machine Operator
SUMMARY: Tend and/or operate variety of plastic molding machines. Remove part(s) from machines, inspect for conformance to quality standards, perform value-added processes, when necessary, record data and package part(s) for shipment or next step in manufacturing process.
ENTRY LEVEL REQUIREMENTS:
 Requires dexterity
 Previous experience working in a manufacturing environment preferred.
 Intermediate computer skills
 Intermediate reading, verbal and written vocabulary skills.
 High School Diploma or GED required
 Able to pass Altek's Visual Aids Training test for recognizing molded plastic part flaws
ESSENTIAL RESPONSIBILITIES:
 Perform highly repetitive tasks while minimizing wasted motion and take action where improvements are needed in safety, cost and quality.
 Inspect, prepare and package manufactured goods for shipment to customer.
 Use Altek's ERP system (MAPICs) to correctly and consistently input production data.
 Use light power tools correctly and safely.
 Perform all tasks assigned, using existing documentation on procedures and tolerances, while maintaining special attention to safety, cost, quality and 5s practices
 Must pay close attention to detail when reading, writing or completing all work documentation.
 Adhere to Altek's Vision, Core Values and Quality Policy, to ensure quality to customers, internal and external
 Share information with new employees
 Suggest improvements in existing processes
SKILLS AND QUALIFICATIONS:
 Possess excellent reading and math skills and demonstrate intermediate computer skills.
 Ability to read and interpret basic blueprints.
 Ability to communicate effectively with other employees in a team environment.
 Exhibit positive communication and behavior skills.
 Possess the traits necessary to hold all team members accountable for not adhering to Altek's policies and procedure's where clearly defined.
 Must be self-motivated and have the ability to motivate those around you through action and behavior.
 Possess the traits necessary to learn and promote working in an environment that allows individuals to thrive in a "Boundaryless Organization".
TOOLS, EQUIPMENT AND VEHICLES:
 Computer
 Caliper
 Micrometer
 Pin Gauge
 Box/trimming knives
 Tape Gun
 Some hand tools
 Some power hand tools
PHYSICAL DEMANDS:
Activity YES NO Comment
Sitting: XX ____ Rarely
Standing: XX ____ Frequently
Walking: XX ____ Occasionally
Pushing/Pulling: XX ____ Occasionally
Climbing: XX ____ Rarely
Squatting/Kneeling: XX ____ Occasionally
Bending/Stooping: XX ____ Rarely
Twisting/Turning: XX ____ Frequently
Handling/Grasping:
One hand XX ____ Frequently
Two hands XX ____ Occasionally
Reaching overhead: XX ____ Rarely
Reaching outward: XX ____ Occasionally
Right XX ____ Occasionally
Left XX ____ Occasionally
Both XX ____ Occasionally
Lifting up to: 1 Occasionally 35 lbs.0 Frequently 0 Constantly
Carrying up to: 1 Occasionally 35 lbs.0 Frequently 0 Constantly