An Honest Day's Work
Gary Owens, president of SkyOne Aerospace, has brought a strong work ethic to all endeavors, including his MRO shop in Spokane.
By Jennifer Ferrero
Gary Owens needed a job after high school where he could support himself. He started working in a mechanical environment and has never looked back. While his career has taken a variety of detours, he has chiefly been involved with aircraft maintenance, specifically propeller work. And he has been in leadership roles almost from the beginning.
Now, as President of SkyOne Aerospace, a business in Spokane Valley, Owens employs close to 20 people, primarily former military. He said, "The military trains them, and they take the work seriously."
But in his career, at one point, he managed three facilities and up to 500 people when working for Brasstech, a faucet manufacturer. During his tenure with that company, he was on the road and, at one point, as a Marriot Rewards Member, found he had stayed in hotels 185 times in one year. He knew that it was time for a change. While he remained with the company for several years and grew in the position, he found his passion was in the aerospace industry.
He wanted to get back to the nuts and bolts of maintenance and repair, especially propeller work. Throughout his career, he obtained an education in A&P and business. Eventually, in 2015,  he met some partners who encouraged him to move his family to Spokane to start SkyOne Aerospace as an FAA Repair Station.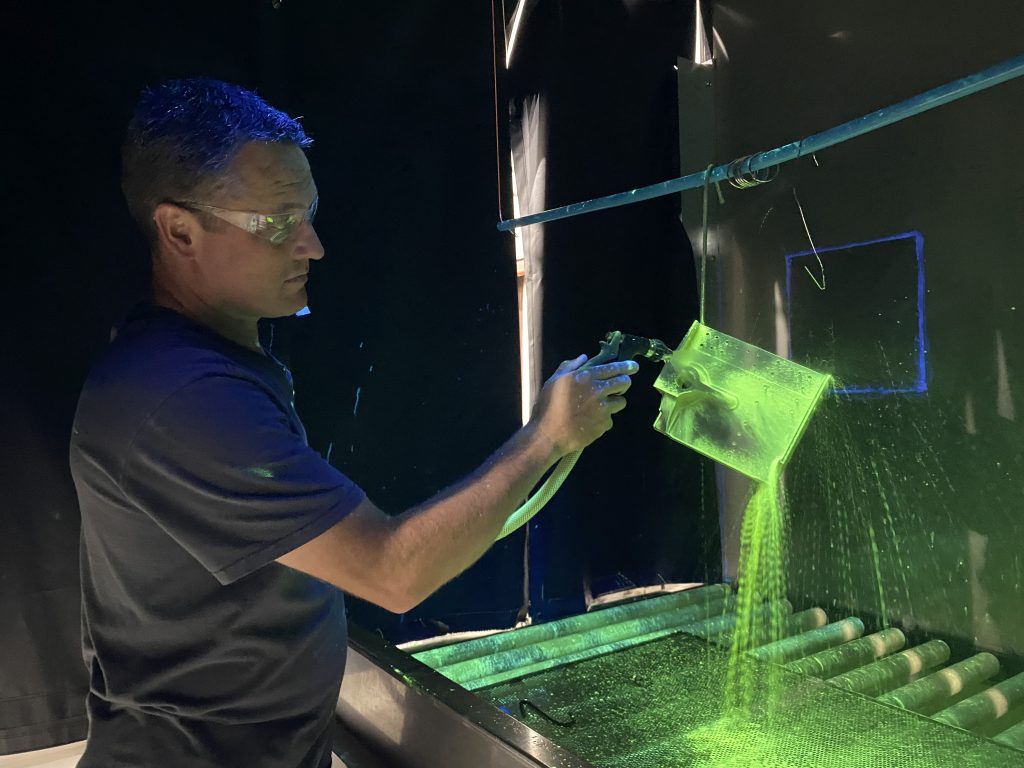 "A customer is more than a customer; I like to get to know people — you develop a relationship. It is a global industry, but the community is small," Owens said.
They now offer full-service maintenance, repair, and overhaul on the Lockheed C-130 Hercules and the Lockheed P-3 Orion. Both military aircraft, the Hercules is "an American four-engine turboprop military transport aircraft designed and built by Lockheed," and the P-3 is "a four-engine, turboprop anti-submarine, and maritime surveillance aircraft developed for the United States Navy and introduced in the 1960s."
SkyOne maintains both propellers and avionics on these aircraft. In addition, they now have non-destructive testing (NDT) and a long list of supporting parts, from propeller control assemblies and spinners to propeller synchrophasers. Their turnaround time is four to six weeks. Owens said their business is all, "word of mouth and referrals; (we are) known in the industry as having a good reputation." He said tongue and cheek, he's known as the "old prop   guy — longest living guy doing this work."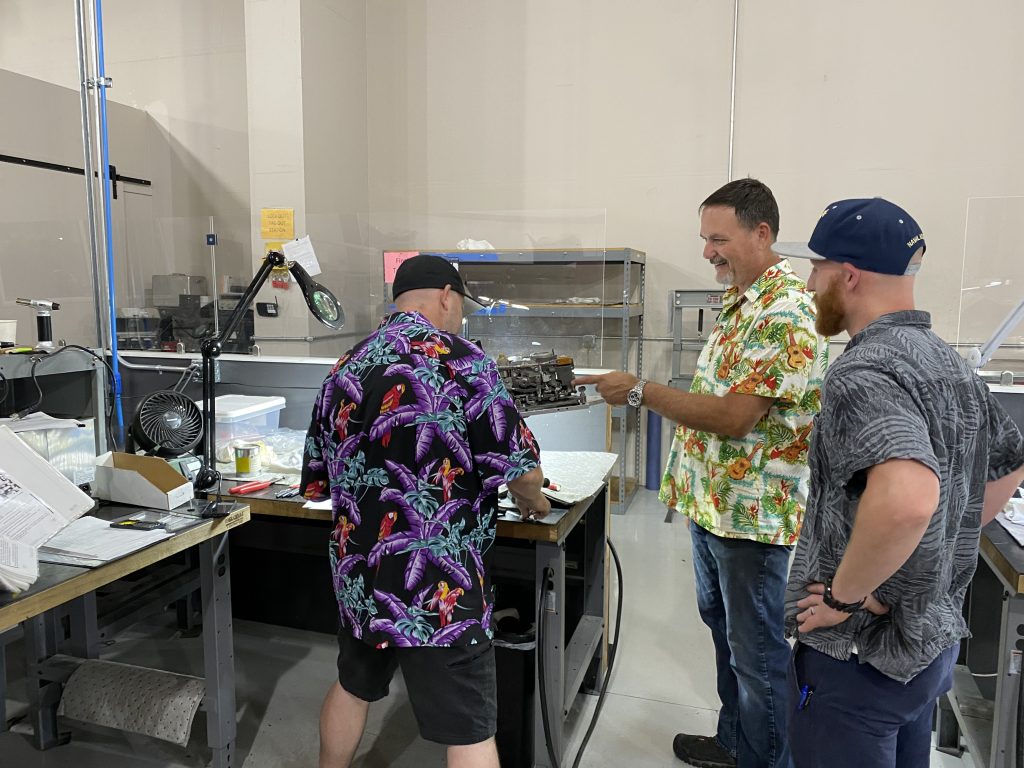 — Aircraft Platforms supported include:C-130 HerculesL-100 / L-382 HerculesP-3 OrionCP-140 AuroraDHC-5 Buffalo
Kyle Barker, operations manager, joined the company in December 2021. Like in most small businesses, Barker said he wears many hats.
"As operations manager, I run things in the shop. I maintain schedules for IOC and the composite departments and manage customer relationships." He is also in charge of shipping and hiring. He said finding employees, like most MRO or manufacturing shops, could be challenging. He noted that they would contact the TAPS class at Fairchild Airforce Base to find people transitioning out of their military service seeking this kind of work.
They also go to Spokane Community College to search out employees as well. "There aren't a lot of companies that do the kind of repair that we do. To be able to do the repairs for the companies and countries that need it, it is important for us to get the job done correctly," Barker said.
The company currently has just under 20 employees. Barker said they would have three to four more but finding reliable people today can be tough. He shared that they recently had a candidate who was offered a job and then went MIA. Barker said it isn't uncommon for people to take unemployment over work. He added that he was at a trade show this year where a big topic of conversation was "How to get people who want to work."
Despite hiring challenges, he added that he is impressed with the employee commitment at SkyOne. "Everyone is willing to help each other out. A core group of guys has been there for some time." But he said that although there are many veterans in the workforce, the procedures are not military based but instead are based upon the experience that Owens has brought to the table.
One of SkyOne's customers is Lee Beamon of Reliance Aircraft out of Austin, Texas. Beamon had known Owens for years and came to SkyOne with his business when Owens opened in 2015. "I started working with SkyOne when Gary opened. I knew him from his previous employer and followed him to SkyOne," Beamon said.
Reliance Aircraft buys and sells airplane parts. Beamon works in the military division and sells, manages, and purchases parts for order.
He has stuck by Owen's side because "SkyOne sells a quality product, stands by their product, and stands by what they tell you. If Gary says something, we take it as true," Beamon said. And, per the Reliance Aircraft website, www.relianceaircraft.com, credibility is also key to their business, "We know the best relationships in business are built on trust and respect. We work tirelessly to provide our customers with the highest levels of service and equipment."
So, it seems like-minded companies do business together. For SkyOne and Reliance, their quality and credibility are similar. Beamon said, "Their repair services are on point. If they can work on our parts, we don't go out and search anymore for other vendors."
Owens is proud of his established and maintained customer base over the years. It is because of hard work and trust building that they have done well. Perhaps it is also because they offer a unique service in the equipment they work on and maintain for both the U.S. and Canadian military.
They've added new services, like NDT and fuselage metal work repair.
"We are one of only four U.S. companies supporting the propeller systems on the C-130," Owens said.
What makes Owens most proud is SkyOne's technical training programs in foreign countries. "I love interacting with the foreign militaries and training people," he added. He is also proud of the family-oriented environment. He tells employees, "Don't lie or steal from me, and we'll get along great."
While they have fun, like bringing in food and beer on a Friday afternoon, Owens said that is a part of having a healthy work environment. "I like living comfortably and having good relationships with family, friends, and coworkers. I love hanging out with the guys. Having a good job to come to is important," he added.
A commitment to quality services, long-term relationships, and passion for the work are all things that drive Owens. A true leader with a strong work ethic encourages others to put in a hard day's work at SkyOne Aerospace.
— Services within non-destructive testing at SkyOne This service is a NAS410 compliant FAA-certified commercial NDT program. Magnetic Particle TestingLiquid Penetrant TestingDemag CoilNDT experts on staff  
Contact Information
SkyOne Aerospace
509) 385-0233
10305 E. Buckeye Lane
Spokane Valley, WA, 99206
Sales@Skyoneaerospace.com
www.skyoneaerospace.com