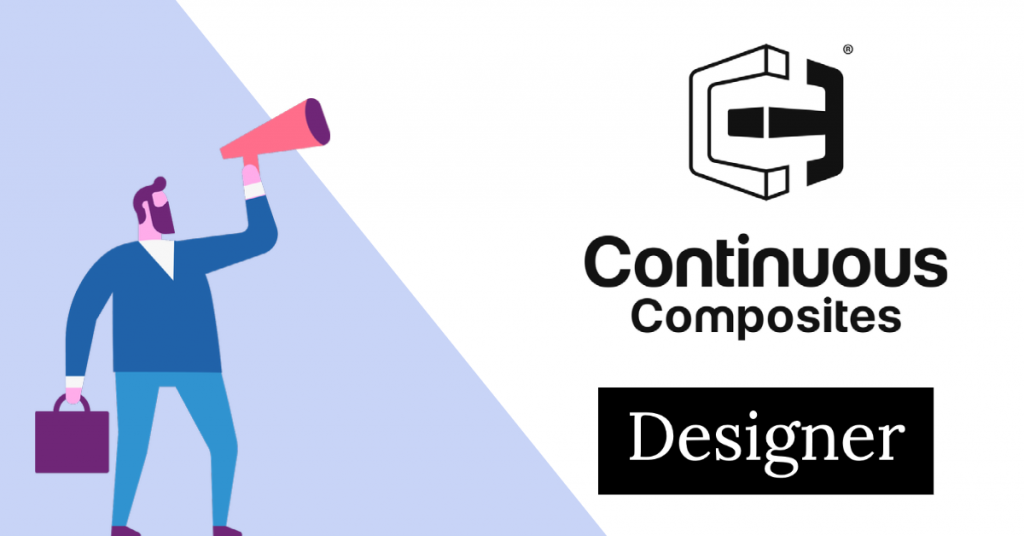 Designer
Posted 07/23/2021
Status: Available
Contact: mseaman@continuouscomposites.com
Company: Continuous Composites
Title: Designer
Description Designer: https://continuouscomposites.bamboohr.com/jobs/view.php?id=25
Company Summary:
Continuous Composites, headquartered in Coeur d'Alene, Idaho, owns the world's earliest granted patents on Continuous Fiber 3D Printing (CF3D®). Offering the most advanced composites and additive manufacturing solution, CF3D redefines mainstream manufacturing. We are taking a purposeful approach to establishing our foundational team of energetic, driven, and hardworking individuals with a synergistic background in business and engineering. Our team, vision, and patent protection are igniting the next industrial revolution and we are on a journey to transform manufacturing.
Your Role on the Team:
As the lead and sole designer at Continuous Composites, your designs will represent the face of Continuous Composites, both internally and externally. Alongside the marketing team, you will create thoughtful designs in every corner of our company, varying from brand development to website design to fully integrated advertising campaigns. We are looking for a skilled creative to develop thought-out designs, original graphics, and clean illustrations that elevate our brand. This position requires a deep understanding of design theory and experience with a wide range of work in both print and digital mediums. It requires a fast learner who can juggle multiple projects simultaneously and work in a fast-paced environment with a collaborative team.
Working at Continuous Composites, your designs would have a large impact on the future of our company. We are looking for an experienced, confident designer who can be self-motivated to take our brand to a new level.
Responsibilities:
Execute a variety of marketing and business projects ranging from promotional collateral, campaigns, website imagery, and advertisements for both print and digital applications.
Collaborate closely with the marketing team on tasks and priorities.
Edit and refine artwork on a fast-paced schedule.
Prepare press-ready designs based on supplied specifications and distribution requirements.
Design and produce display banners and assets to fit social media platforms.
Creatively drive the company's brand with fresh, original graphics and illustrations.
Establish and maintain cohesive branding for various interfaces.
Exhibits excellent time-management skills and adheres to production schedules to ensure on-time deliverables.
Works against tight deadlines while producing accurate and high-quality work.
High attention to detail with excellent organizational skills.
Displays good collaboration skills and an ability to listen and incorporate feedback.
Proactive and agile, able to work on and/or manage multiple projects at once.
Required Experience:
2-5+ years in design-related experience or similar role.
Proficient with the Adobe Suite or similar software.
Strong Illustration skills and experience.
Proficiency with Webflow or comparable platform.
Proven ability to work on multiple projects with competing deadlines in an environment with quickly shifting priorities; able to shift gears and operate comfortably in ambiguity.
Strong visual design skills, including an eye for color, layout, and typography.
Understanding of color management (RGB/CMYK), image resolution, pre-flighting, and die line creation.
Ability to act with a sense of urgency, and with a high degree of self-direction and independence.
Ability to build effective working relationships with cross-functional teams and individuals.
Ability to be proactive with strong organizational skills and time management.
Desired Experience:
Experience with videography and photography.
Experience with Figma or similar prototyping tool.
Experience working with and building out design systems.
Past history with developing clean, minimal design and working with a brand.
NOTICE: A portfolio is required for consideration of this role.